Hope throws a lovely stamp of puppy, the bulk of whom have gone on to trailling or working homes, both within the UK and abroad.

She is a lovely dam and we always used FTW Bellever Simon as her stud dog - who is not only very talented & very handsome, but also shares her wonderful temperament & game finding ability.
They have given us a lovely line of labradors, which we hope to do justice to. We have 3 lovely daughters from them ourselves, who we hope will continue to enjoy themselves in the field and do their parents justice.

Hope will go on to enjoy her retirement from motherhood and will just enjoy herself, as part of our picking up team & part of our family, both in the field & at home.
She has been a fantastic dog for us, very much loved & will hopefully have a long and happy retirement with us - although she is still as fit and has as much drive as her daughters in the field.
Grebe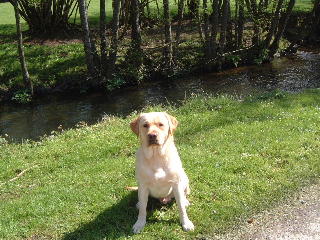 A typical Hope dog puppy, age just 12 months